IK Multimedia iRig Keys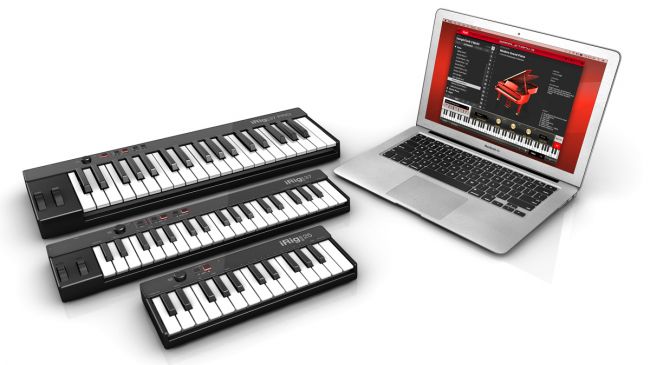 As far as we understand it, the models with the white top panel are 'universal', in that they come with the cables required to work with Mac, PC, iOS and Android right out of the box, whereas the black models are billed as PC/Mac controllers but will also work with iOS and Android if you purchase the relevant adaptors/connection kits.
In each case, you can choose between 25- and 37-note mini-keyed options, and a 37-note model with full-size keys is offered as well. If you want knobs and pads you'll need to look elsewhere, but the iRigs play pretty well (particularly the ones with full-size keys) and are light and portable. The 37-note models come with pitch and mod wheels, too.
Akai APC Key 25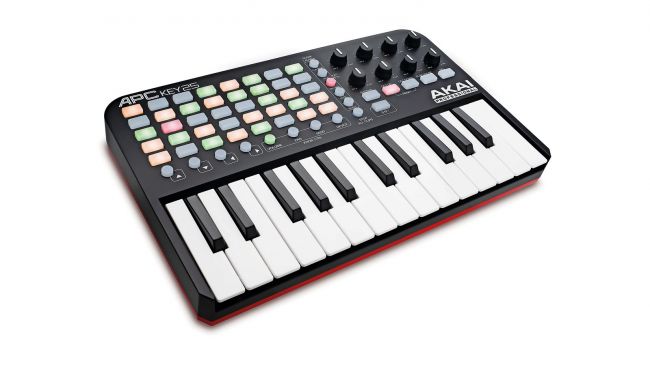 As well as its 25 mini keys, the Ableton Live-friendly APC Key 25 also has a 5×8 grid of clip launching buttons, plus scene launch buttons and eight knobs. That's actually the same amount of clip control as you get with the APC40 mkII, though here we have fewer rotaries and no faders.
Compact enough to fit in a bag with a laptop, the APC Key 25 is a good choice for any Live user who wants an ultra-mobile performing and/or composing setup.
M-Audio Oxygen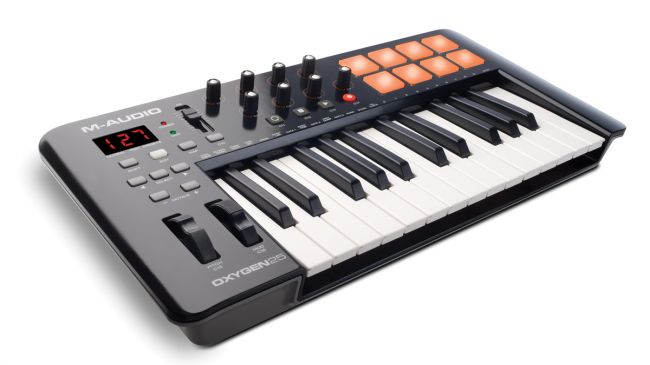 M-Audio can rightly claim to have been innovators in the portable MIDI controller market – the original 25-note Oxygen is the first 2-octave keyboard we can ever recall getting our hands on.
We've now reached the fourth generation of Oxygens, the 25- and 49-note models of which can be picked up within our budget (there's a 61-note version, too). The smaller model gives you pads and knobs (eight of each) while the larger one also offers a bank of sliders for mixing purposes.
Akai Lpd8 & Lpk25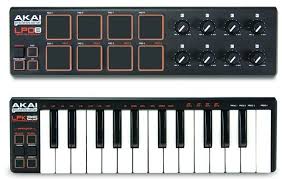 The LPD8 and LPK25 are USB-MIDI controllers for musicians, producers, DJs and other music creators. Each model is less than 13 inches across and weighs less than a pound to easily fit into a laptop case, backpack or messenger bag for extreme portability.
The LPD8 is based on Akai Professional's MPC line of iconic music product stations. While the smallest model, the MPC500 is quite portable, many producers prefer to work with software on their computer and the LPD8 gives their laptop the controls they prefer over a mouse and keyboard. The LPD8 has eight blue light-up pads that are velocity sensitive for programming rhythmic or melodic parts. The pads can also send program-change information to software. The LPD8 also has eight assignable Q-Link knobs to which users can assign virtually any parameters in their software for hands-on control.
The LPK25 is a scaled-down relative to the MPK series of keyboard performance controllers. The diminutive keyboard is made up of 25 miniature, velocity-sensitive keyboard keys with synth action. The LPK25 contains an arpeggiator, which steps through chords automatically, assisting musicians with creating quick melodic ideas. Sustain, octave up and down and tap tempo controls round out the LPK25's easy-to-learn layout.
Each controller works plug and play with Mac and PC and requires no software driver installation or wall power for operation. Both the LPD8 and LPK25 have four memory banks for programming and recalling settings appropriate to different software programs they use.
Source: First Three Controllers & Last two