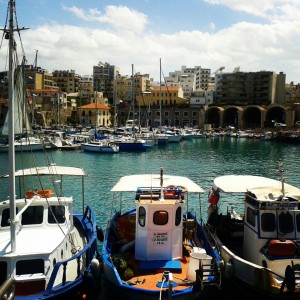 Heraklion , Greek: Ηράκλειο is the largest city and the administrative capital of the island of Crete, Greece. It is one of the largest cities in Greece. According to the results of the 2011 census, the population of the city proper was 140,730 inhabitants, the municipality's was 173,993 while the Heraklion urban area has a population of 225,574 and it extends over an area of 684.3 km2 .
Heraklion is the capital of Heraklion regional unit.
The Bronze Age palace of Knossos, also known as the Palace of Minos, is located nearby.
History : Heraklion is close to the ruins of the palace of Knossos, which in Minoan times was the largest centre of population on Crete. Though there is no archaeological evidence of it, Knossos may well have had a port at the site of Heraklion as early as 2000 BC.
Colleges, universities, libraries, and research centers : 
Museums :
 Local TV stations :